DJ Jazzy Jexx - "Weird State/Early Jazz"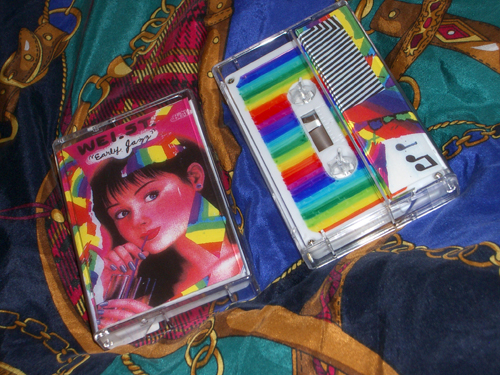 THIS IS DJ! THIS IS DJING! DJ Jazzy Jexx (PR CREW) delivers the next level of what has come to be known as the tape club. This is after the fact, the next phase. It is very important that everyone understands that this tape features both 4 track and DJ styles.
The tapes are beautifully hand-colored custom bright Rainbow markers. The sounds are true blown out jamz. An amazing moment happens when a slightly annoyed voice says "Hello?!?" over pulsing feedback beats.
At times DJ Jazzy Jexx is not even Djing songs but rather dJing massive excited textures. Fuzzed out solos bass lines and repeating clapping patterns get louder. Awesome slam dance mixing. Jexx has the guts to make the music we only dream of inside our living rooms.
The tape is 62 minutes long. It was made in Fall 2007.
SORRY this tape is TEMPORARILY sold out. More tapes are on the way. Check back soon. Thank you.